Same Company. Different Clothes.
Art Direction:
Efren Baria Jr.
Graphic Designer:
Caitlin McElroy
Photographed by:
Brie Pointer
–
Website Design & Development:
Him•Her
So here's the prologue for this project: its original design came from an attempt at creating a new brand for the corporate travel division of Goliger's Travel Plus. 
At the time, stake holders were all on board and the objective of creating a separate identity apart from leisure travel moved forward.
It was called
GT PLUS - Corporate Travel Solutions.
It looked professional and straight forward, and the copy writing was succinct and simple. 
So a logo, alongside it's own brand and visual language was created. Business cards were printed. Sales brochures were produced and everything looked great! Unfortunately the downfall of the brand, came internally, as the transition to this new brand lacked foresight. Specifically with getting 'buy-in' from the thetravel consultnats on the front line, as well as some select clients.
After a short 2 year run, the brand was retired, and then simply dubbed
"Goliger's Travel Plus - Corporate Travel."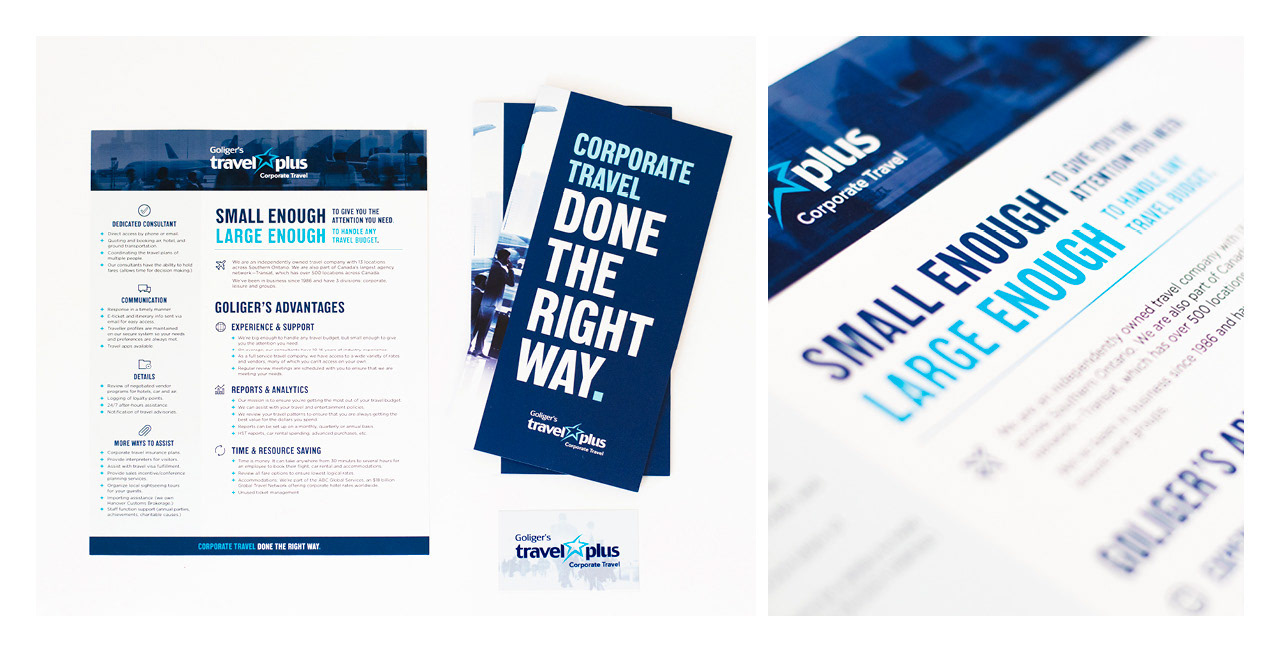 The name died, but the visual identity stayed. With a little love, and some much needed attention, we refined what was left by coupling it with some great iconography, precise copywriting and taking a second look to improve the overall typography.
We created a new sales kit with a one pager overview, and custom folder with some matte and spot uv loving that contained "rack" cards and a business card of course.
Continuing our push for this brand, we engaged the fine folks at
Him•Her Inc
to design and develop a
landing page
that not only had all our necessary info, but a place to generate leads through an online inquiry form. They were able to perfectly encompass the brand's look and feel.